recovery
Turmeric Granola
Regular price
Sale price
$8.99
Unit price
per
Sale
Sold out
Ingredients
Oats (35%), Tapioca, Sunflower kernels, Pumpkin kernels, Coconut (11%), Flaxseed (8%), Oat bran, Sunflower oil, Coconut sugar, Ground ginger, Turmeric extract (95% curcumin) (0.1%), Black pepper (0.1%).
Overview
Curcumin is the active ingredient that unlocks turmeric's full potential – and we've used 95% curcumin in our Turmeric Granola, along with ground ginger and a little black pepper (piperine) which help to improve its absorption. The combination of golden oats, sunflower & pumpkin kernels, along with coconut, flaxseed and oat bran, provide a good source of fibre to start your day. This granola has a brilliant colour, a playful taste and is sure to delight the senses. You'll enjoy it any time of the day!
antioxidant rich turmeric
Allergens: Cereals containing gluten (oats).
May contain traces of tree nuts.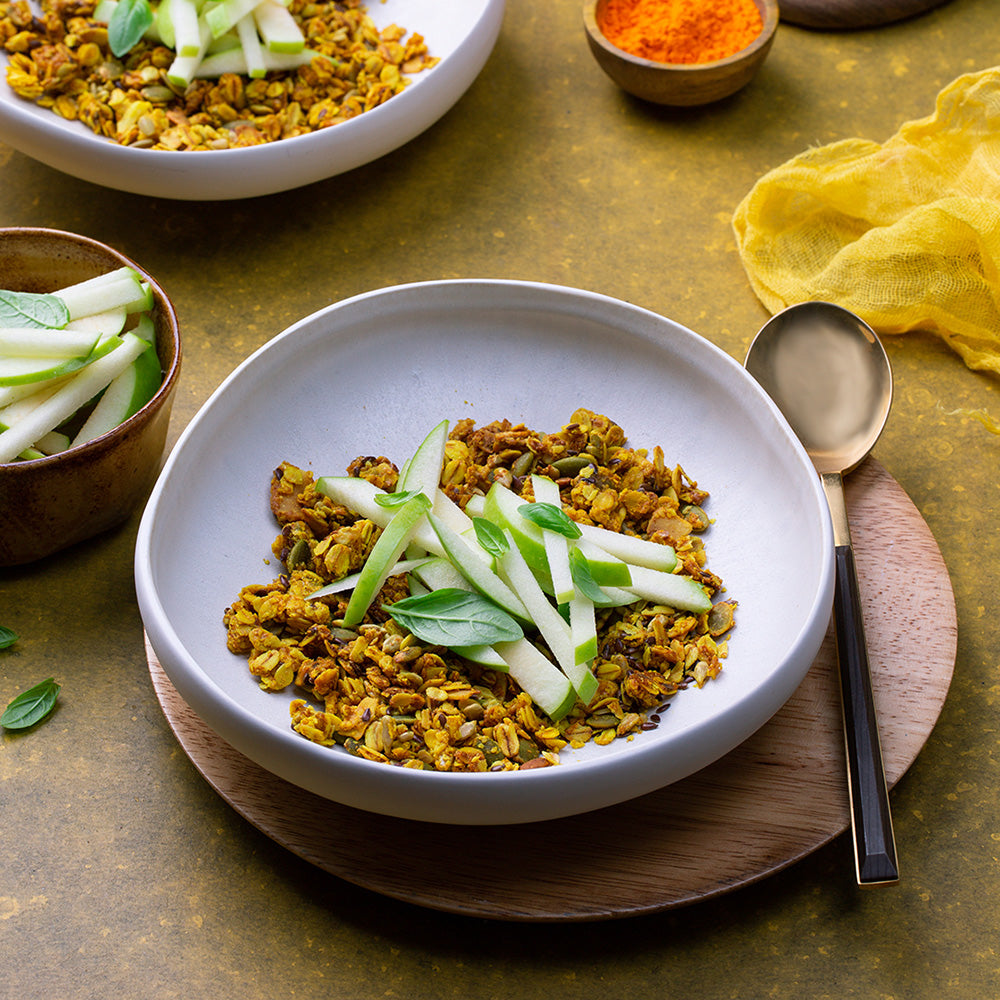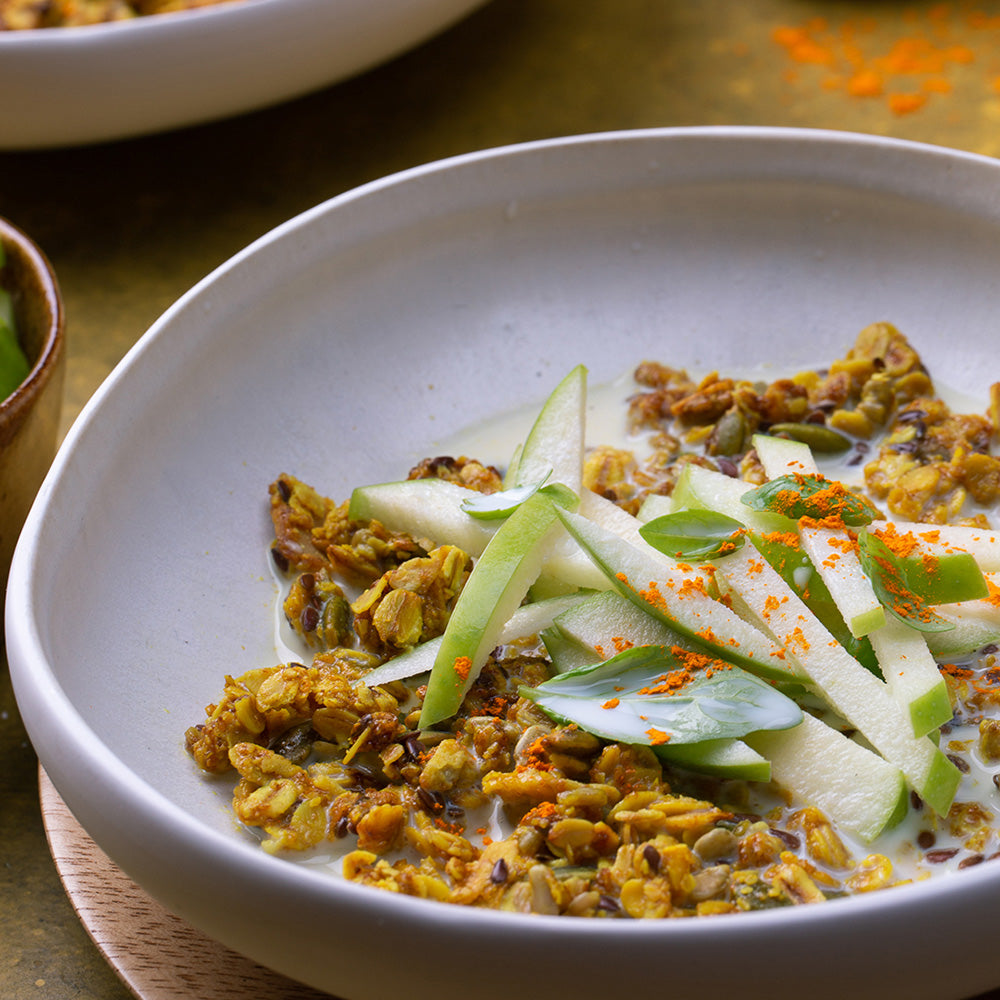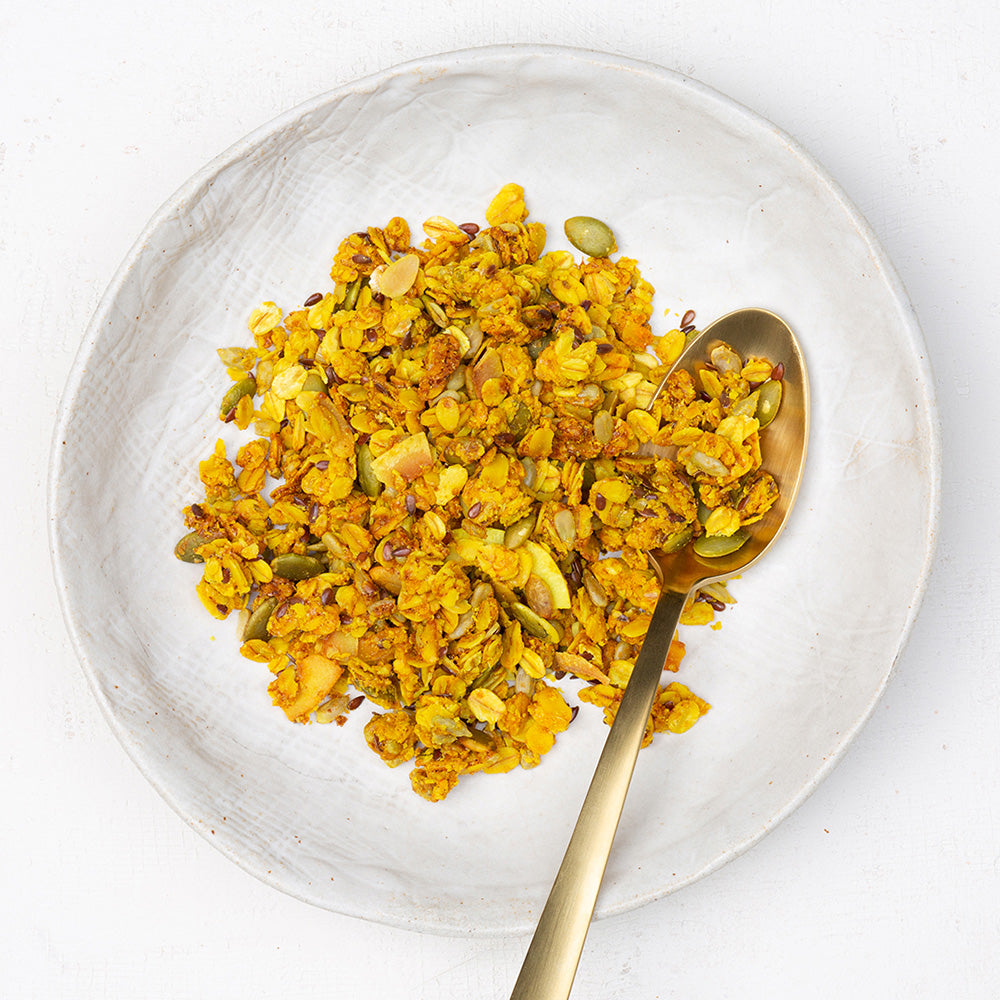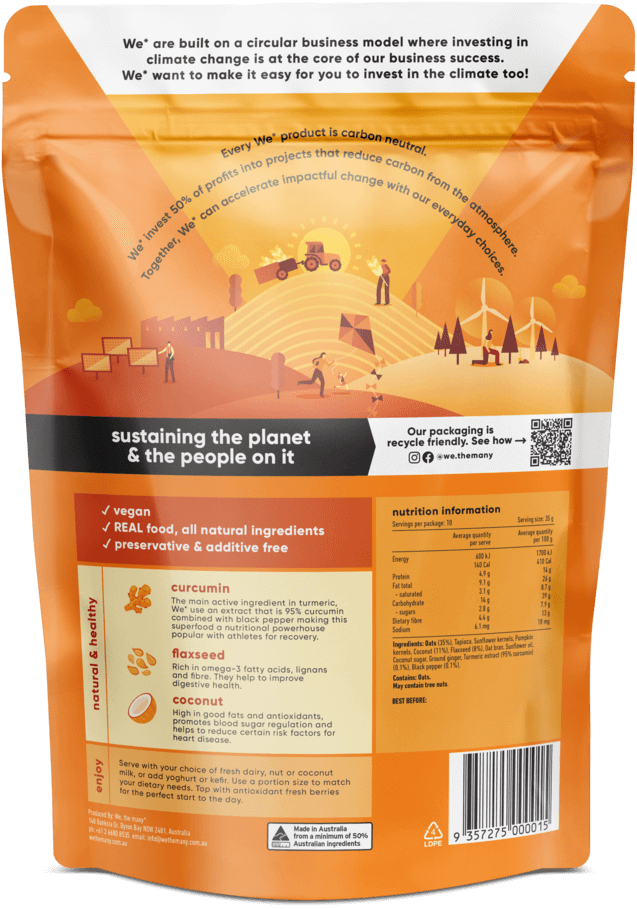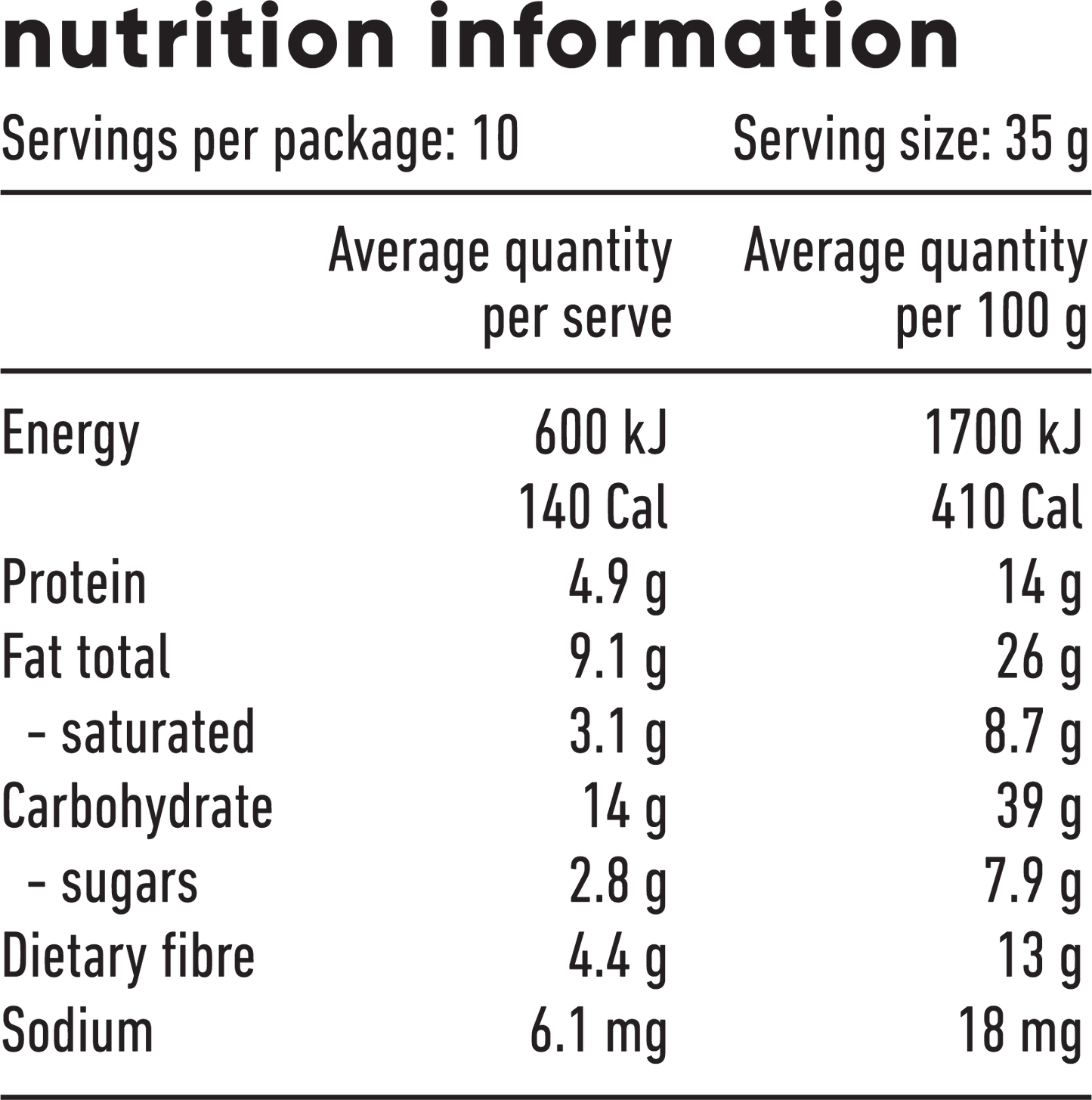 Coconut
High in good fats and antioxidants, promotes blood sugar regulation and helps to reduce certain risk factors for heart disease.
Curcumin
The main active ingredient in turmeric, We* use an extract that is 95% curcumin combined with black pepper making this superfood a nutritional powerhouse popular with athletes for recovery.
Flaxseed
Rich in fibre, these tiny little nutritional powerhouses help to maintain digestive health.
What our dietitian says
Incredibly rich in antioxidants
No cloying sweetness here like most granolas, just warm, deep flavours with a subtle hint of spice slightly reminiscent of a Christmas gingerbread biscuit. Curcumin, the active component of turmeric is enjoying the health spotlight, and for good reason – it's incredibly rich in antioxidants, is a powerful anti-inflammatory agent and has antifungal properties. Importantly 95% curcumin is used here, in combination with black pepper and ginger which work to boost absorption giving you a daily dose of goodness. Natural healthy fats from sunflowers, coconut, and flaxseeds satiate and support brain function.

Pip Taylor | Accredited Sport Dietitian and Pro-Athlete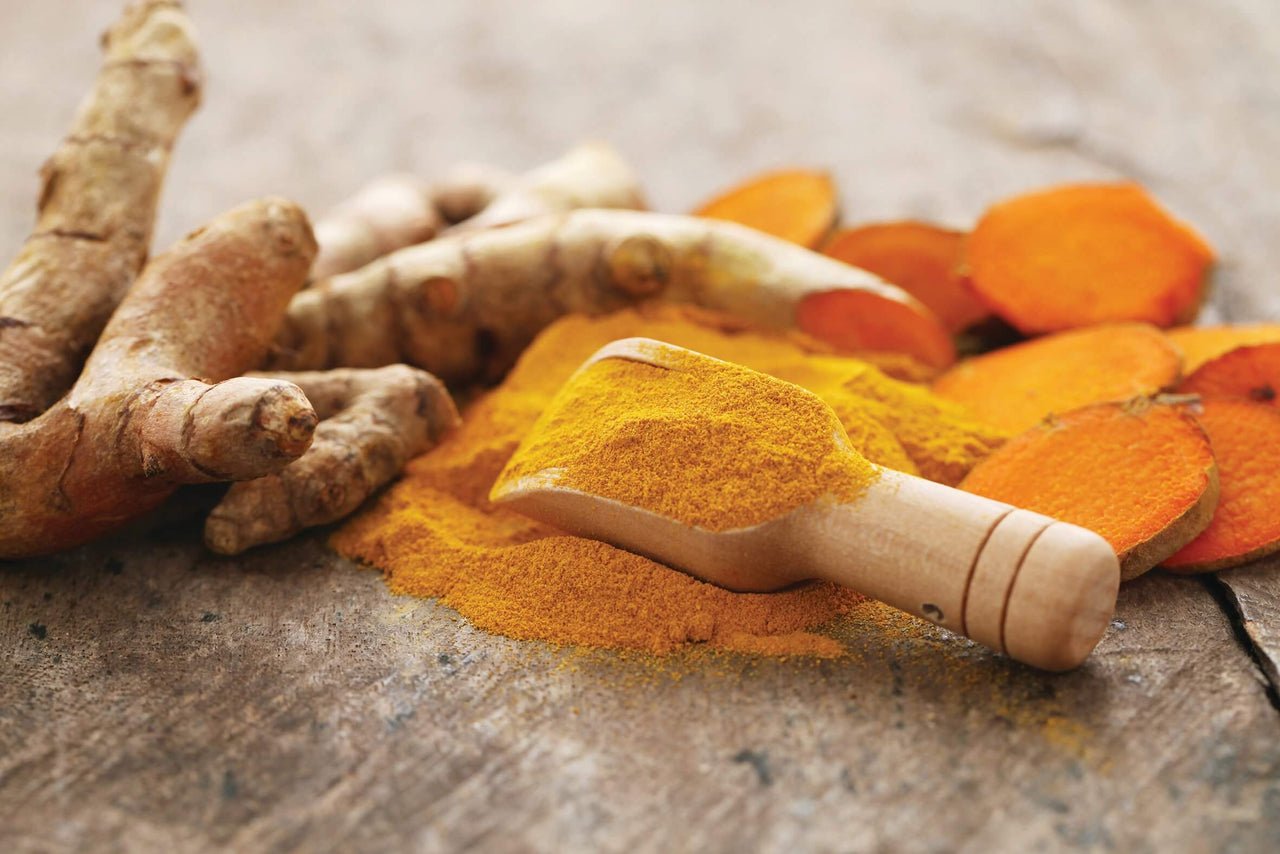 What's so good about Turmeric?
Curcumin is the active component of turmeric which has strong anti-inflammatory, antioxidant and anti-fungal properties. Extensive research backs up the benefits ranging from brain and cognitive health support, heart and cardiovascular system, joint inflammation and muscle pain.
It's hard to eat enough turmeric to be efficacious, so it's important to have a high concentration of curcumin and for it to be combined with piperine (from black pepper) to boost absorption.
Regular price

Sale price

$7.99

Unit price

per