gut health
Prebiotic Granola
Regular price
Sale price
$8.99
Unit price
per
Sale
Sold out
Ingredients
Oats, Sunflower kernels, Tapioca, Dried figs (Figs (98%), Rice flour) (9%), High oleic sunflower oil, Golden syrup, Green banana powder (3%), Almonds (3%), Flaxseed, Pumpkin kernels, Coconut butter, Coconut, Ground ginger, Lemon juice powder, Sea salt, Ground cinnamon. Green banana powder contains 50% resistant starch.
Overview
Try one of Australia's top 5 healthiest breakfasts as voted by the Healthy Food Guide Awards 2022. ⁠Kickstart your day and feed your gut with one of nature's best prebiotic powerhouses - green banana resistance starch. Prebiotic Granola is a wholesome blend of wholegrains, nuts & seeds with a little dried fig and cinnamon for natural sweetness, and a touch of lemon for your morning zing! This delicious granola will nourish your gut, and maybe even your soul! Great with yoghurt or kefir for breakfast or for snacking throughout the day.
good fats from nuts & seeds
Allergens: Cereals containing gluten (oats), tree nuts (almonds).
May contain traces of other tree nuts.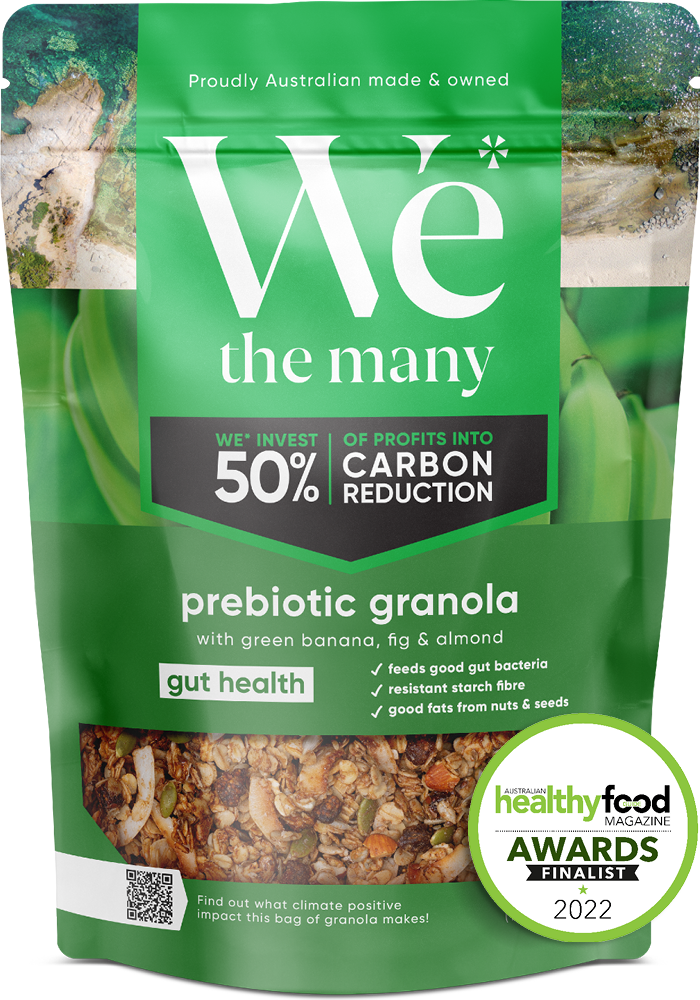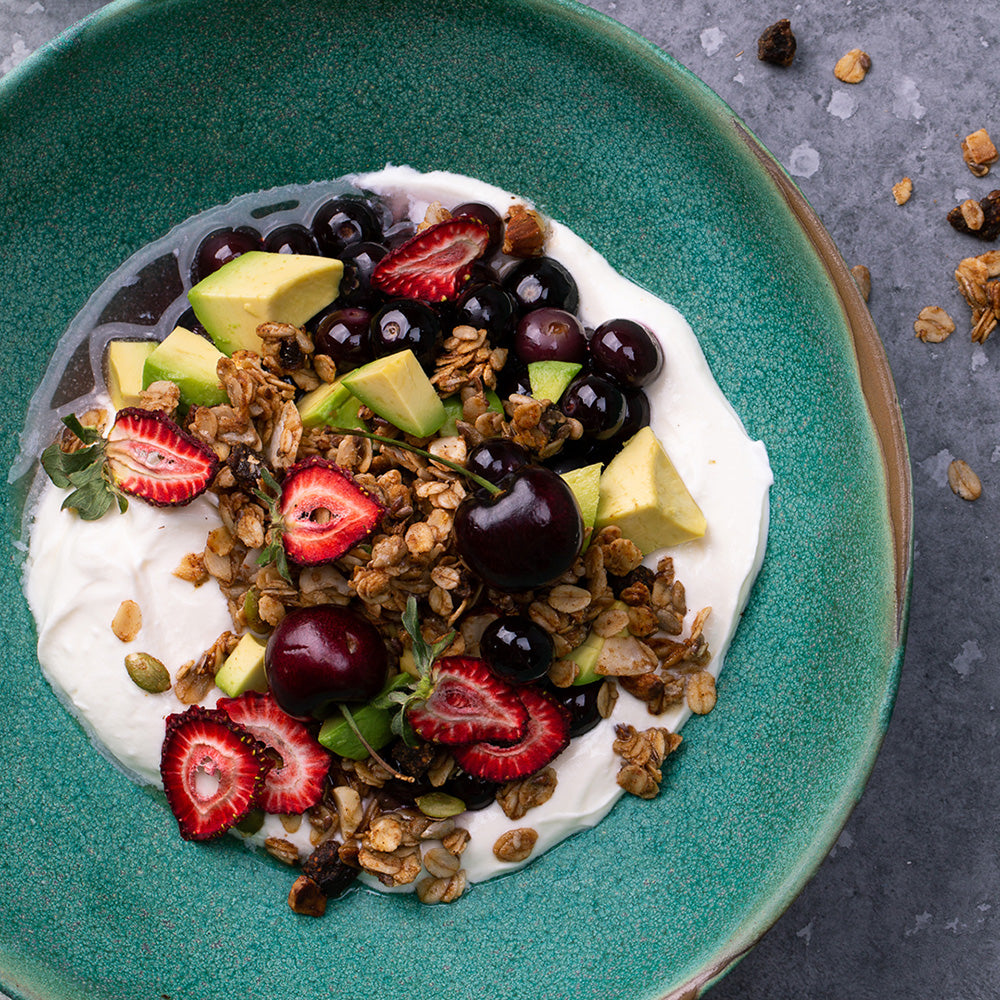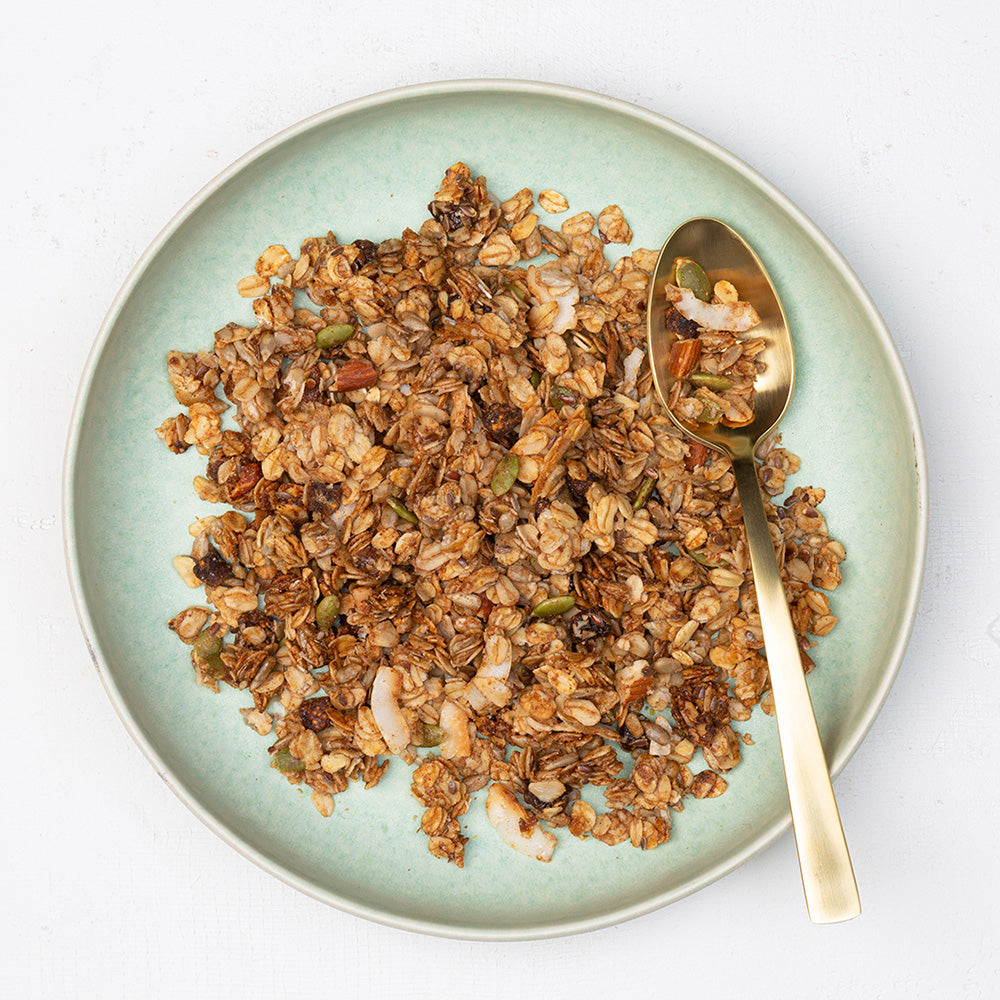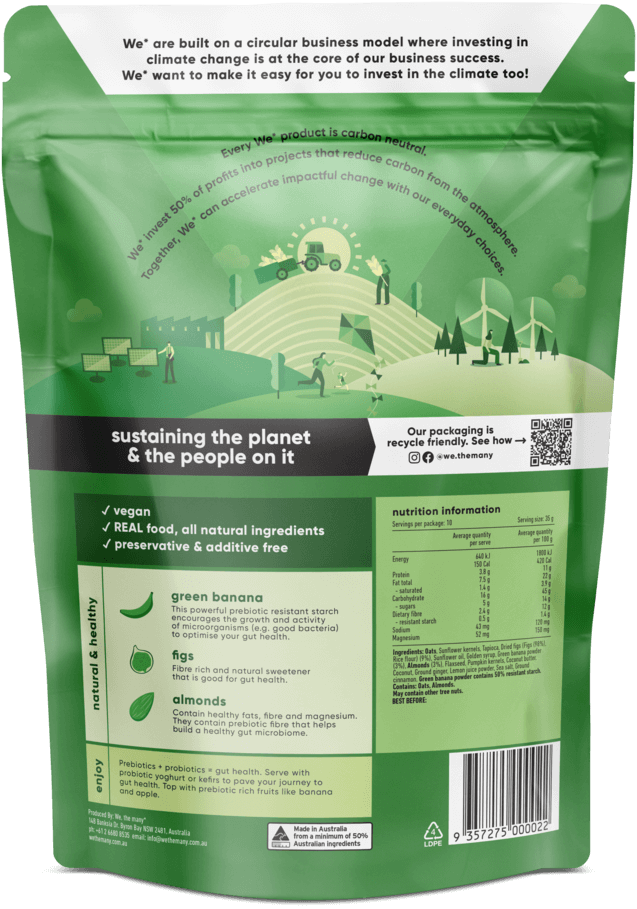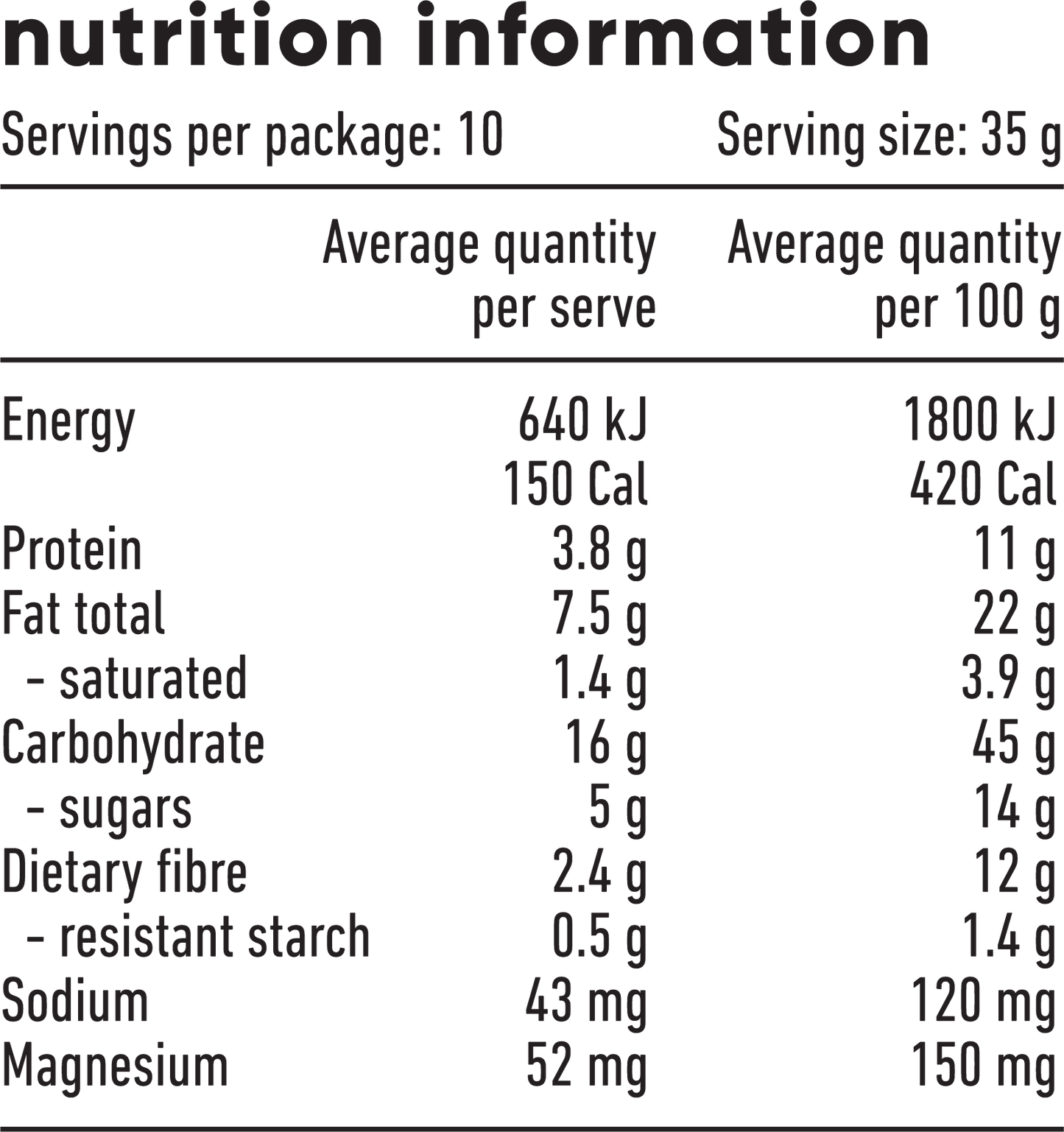 Almonds
Contain healthy fats, fibre and magnesium. They contain prebiotic fibre that helps build a healthy gut microbiome.
Figs
Fibre rich and natural sweetener that is good for gut health.
Green Banana
This powerful prebiotic resistant starch encourages the growth and activity of microorganisms (e.g. good bacteria) to optimise your gut health.
What our dietitian says
A great kickstart to the day
This granola is rich in flavour with a brightness and zing, courtesy of the vitamin C rich lemon juice, making it a great kickstart to the day (or even as a mid-afternoon snack). Most granolas are too sweet and any nutritional benefits are drowned out by added honey or sugar. The green banana resistant starch is the standout here, rich in prebiotic fibres that nourish gut bacteria, wholegrains and seeds that provide brain and health supporting fats, while a touch of sweetness comes from gut healthy fibre-rich figs and dates.

Pip Taylor | Accredited Sport Dietitian and Pro-Athlete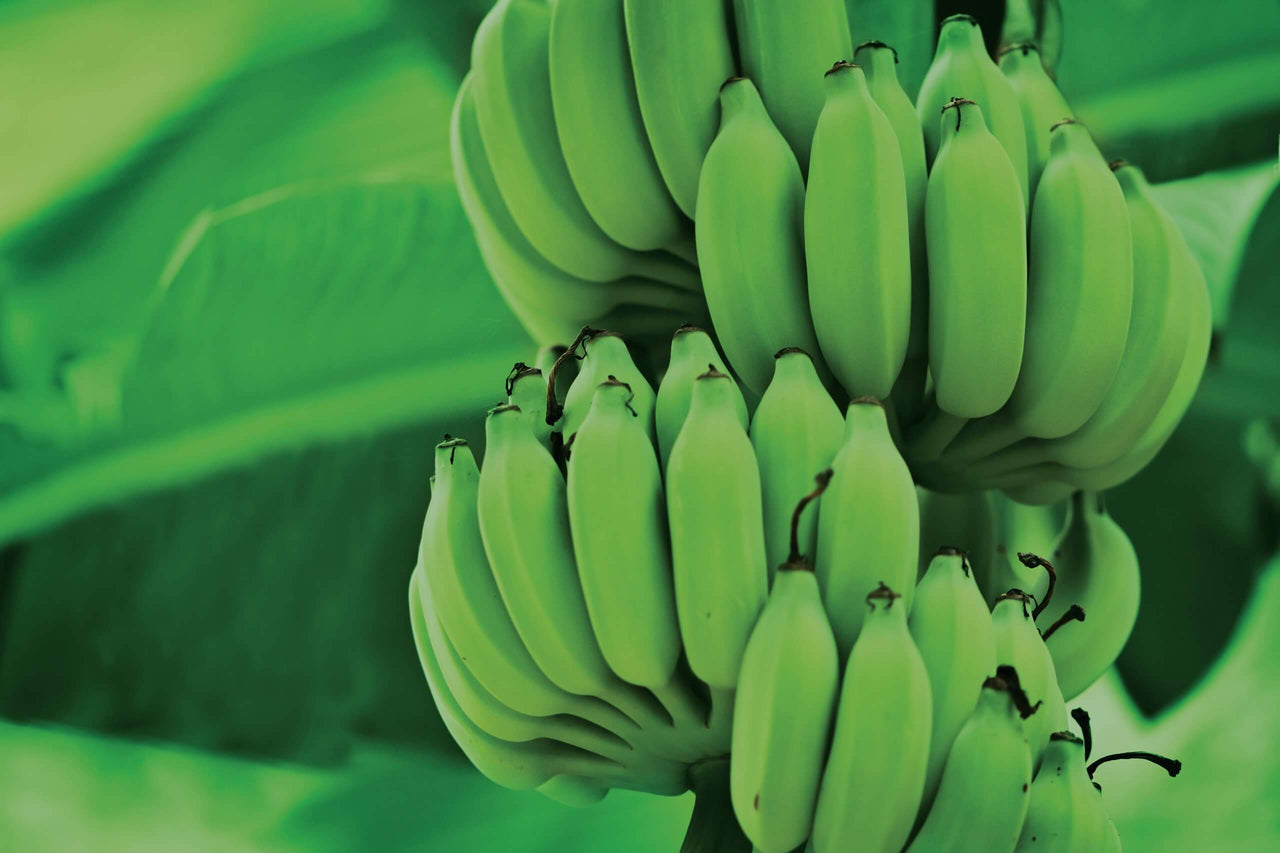 What's so good about Green Banana?
Green banana resistant starch is rich in prebiotic fibre to promote the growth of healthy gut bacteria - which in turn supports a healthy immune system and gut function, regulates digestion, and helps to maintain blood sugar control and hunger.
It's also a good source of 5-HTP, which works to increase production of serotonin, as well as a range of key minerals – potassium, zinc, magnesium, phosphorous and manganese. Research shows green banana starch can improve blood pressure, cholesterol and diabetes.
Regular price

Sale price

$7.99

Unit price

per